Fushimi in Kyoto, where it is crowded with some famous Sake Breweries representing Japan.
I thought about testing the simple question of how much can we drink for 3000 yen at this famous sake district, Fushimi.

To be honest, it was just putting my alcoholic wish of getting drunk with 3000 yen to action.
Keihan "Fushimi Momoyama" station is where it starts. I went through the gate taking three of the still handsome looking Hideyo Noguchi (Person on the Japanese 10,000 yen note).
The number one busy quarter in Fushimi area is just straight outside the station, Fushimi-Otesuji shopping street.
This street is bustling with many shops from decades ago, chain restaurants that are nation-wide, and banks, etc.
Whilst I was walking through the arcade, my alcohol radar started beeping.
This place looks like a ordinary bottle shop from the outside, but…
Ginjou Sakaya Aburachou(吟醸酒房 油長)
The appearance looks like a sake celler. Number of Japanese sake is displayed in the front of the shop in a row.
Hmm, it seems like they're putting their strength into the local Fushimi sake.
It's a normal bottle shop if you just look at it, but don't judge my sake radar lightly.
I can feel something from the back of the shop (nothing like an active energy, but just alcohol smell).
When I gave a little peek, there's a bar seat!
Although it's still only before noon, it's surprisingly busy. This sake district is somewhat scary. I'm soo excited! (Just like what Goku will say in Drangonball).
In Ginjou Sakaya Aburachou, there's over 90 different types of sake from 20 different Sake breweries in Fushimi, and they do sake tastings!
So, all you do is just to choose 3 different types of sake.
Guinomi(Shot glass size) is around 200 yen. Glass is 500 yen.
If the Guinomi size suits you, you can taste 3 different sakes for only 600 yen.
Too cheap…(It actually comes with Tofu and and some nibble to refresh your mouth in between. +200 yen).
When it came to choose the sake, there was too many choices to choose from.
Damn… But don't you worry. The Japanese Sake Concierge a.k.a. the owner of the shop will give you some advice.
I chose the following.
1 – "Kizakura Ginjou Fushimi no Ryoma" (150 yen)
2 – "Kitagawa Honke Tomio Junmai Ginjou Genshu Nigori Sake" (200 yen)
3 – "Shoutoku 2BY Junmai Daiginjou Koshu" (380 yen)
They brought out these 3 different types of sake. The owner gave me a little explanation of each sake.
On a little tray, there was the tofu for refreshment. There's no sauce or anything on it.
1 – On the label, there was a portrait of Ryoma Sakamoto, the top 2 revolutionists in Japan, staring at the other side of the Pacific Ocean.
This sake, of course, was derived from when Ryoma Sakamoto admired the owner of Teradaya in Fushimi as a mother in Kyoto.
This brand is only available in Kyoto, which was one of the reasons I chose it.
So, I brought the glass to my mouth and gently took a sip of Ryoma. Suddenly, the chaotic scene of the days of the Tokugawa Shogunate came rushing into my mouth!!
No, I'm only kidding. It went down my throat really smoothly. It's got no strong characteristic, and simply very nice.
This is civilisation and enlightenment!
I heard a voice from somewhere. (FYI, I bought this as a souvenir to my relative who likes the Tokugawa Shogunate era).
2 – I've came across a lot of Japanese sake in the past, but haven't had the chance to face the Nigori Sake until now.
I thought it was a good chance today so I ordered the Nigori Ginjou that had the Sake rice cleaned to 58%.
It's so white! And very smooth! Kitagawa San, you've got me…
During the explanation, the owner said something like "sexy". Now I understand. The Nigori Sake, Tomio, is somewhat erotic.
This record breaking erotic sake is also limited to Winter season only.
http://www.tomio-sake.co.jp/syouhin/nihonshu/24.html
3 – I never knew there was a genre of aged in Japanese Sake, just like whiskey and wine.
This sake was aged 20 years. Treasure, is the most suitable word for this Koshu.
Inside of the ochoko (Small cup for sake) is brown. Never seen anything like this from Japanese Sake.
The colour turned amber after 20 years of aging. What does it taste like?
… Brandy? not quite. It's got a hint of Japanese Sake, but has a very strong taste.
I really liked it because I usually drink Western alcohol.
In the Edo Era and during the war, this Sake winery was hiding from the government officials.
Then the time pasts, and the taste of the forgotten sake tells you how it used to taste like back in the days.
Shoutoku Website : http://www.shoutoku.co.jp/company/
Spent – 930 yen
Remaining – 2070 yen
Such a luxurious time spent, been able to drink 3 rare sake with a Guinomi size and only spent less than 1000 yen.
Ginjou Sakaya Aburachou(吟醸酒房 油長)
Open : 11:00 ~ 22:00
Close : Tuesdays
Tel : 075-601-0147
Website : http://www.kyoto-wel.com/shop/S81128/index.html
Map :
Kizakura Kappa Country(黄桜 カッパカントリー)
The next stop is Kizakura Kappa Country.
Is "Kappa" that kappa in the river? However, this is a legit antenna shop of a Sake Winery.
You might think Sake and Kappa…? Why? We'll go into that later.
There's a spot close by, where they have their water for making sake free to the public. People can take home a high-quality water used to make sake.
There's always a line near the tap, with people bringing their water bottles and a big bucket.

I wanted to try the water, but there were people taking more than the available amount per person, so I gave up.
I came across a Shiba dog when I was walking.
I thought the owner was taking the dog for a walk. but another one came by.
There's so many Shiba dogs in Fushimi. TAnd there's more coming!
What is this army of Shiba dog!
Starving people surrounding the tap in a me-first attitude, and this dog army.
Hmm, I know this scene from somewhere… I know!
It's like the army of Immortal Joe from "MAD MAX Anger of Death Road".
Look at this brave figure. The Shiba dogs on the stroller looks just like those war boys!
The army seems like they came from Kappa Country. The war dogs I walked past must have been the punitive force for Kappa.
Anyway, in Kappa Country, you can enjoy the freshly made Kizakura Beer and Japanese sake with some course menu or lunch as a restaurant.
You can always come in just for drinks and to browse around the shop as well. The pop up store in the garden serves fresh beers, and you can enjoy gulping on the beers under the blue sky.
The memorial hall of the establishment is a must go. You can study the history of Kizakura and the know-how of the sake making.
Hey, there's a swamp inside the building. On that moment, I jumped up.
It's a Kappa (river sprite)!! There's a Kappa in the building!! A kappa was standing right in front of me. It's after my Shirokodama! (A mythical ball inside the anus that is sought after by Kappa).
Wait up, if I look closely it's only a life size figure of a Kappa.
Just like the above story, there's a lot of things related to Kappa in Kappa Country.
It also has Kappa's ecosystem and anatomical chart, which tricks your mind that you think you came to Toono Museum.
Unfortunately, you cannot take any photos, so you'll have to go see it yourself.
Kizakura Kappa Country(黄桜 カッパカントリー)
Address (English) : 228 Shioya Chou, Fushimi-ku, Kyoto
Address (Japanese) : 〒612-8046 京都府京都市伏見区塩屋町228
Open : Weekdays Lunch 11:30~14:30 (L.O. 14:00)Dinner 17:00~22:00 (L.O.21:00)
Weekend and Public Holidays Lunch 11:00~14:30 (L.O.14:00)Dinner 17:00~22:00 (L.O.21:00)
Close : New Years Eve and New Years
Tel : 075-611-9919
Website : http://kizakura.co.jp/restaurant/country/index.html
Map :

Let's think about it. Today's plan was to drink as much as I can with 3000 yen. It's sad to say, if I go into Kappa Country, the remaining 2000 yen will be gone in a tick.
I've got to let this one go and look for somewhere else.
Kizakura Fushimigura(黄桜 伏水蔵)
I heard I can taste some sake if I go to the Kizakura Factory.
I also heard there's a free shuttle from the car park of Kappa Country. Why not?
This bus's sign reads Takeda Kaido. That's too broad! It also said near "Kyoubashi" underneath the big sign with a smaller font. Near… where's that…? Oh well, let's just hop on.
Walk past Ryoma Street,
Then walk past the famous Teradaya from the Incident of Teradaya, before turning right onto the Kyoto Street 115, and there it is. "Kyoubashi" stop.
Not sure if the bus is actually going to come here. I was waiting for the bus that I had no idea of what it looks like.
After few minutes past the time on the timetable…
It's here!
It has a drawing of a Kappa. I'm relieved.
Hang on a sec, they might not stop if they think I'm just a local waiting for the bus (because it's a shuttle just for Kizakura)
I need to signal the driver!
Hey!
Heey!
A grown up embarrassingly waving at the bus driver for a good 5 seconds.
The bus drove past…
… …
I need to run!
Where are you going! I chased the Kappa bus.
I know for sure the driver can see me with his rear mirror.
He's not stopping at all!
I've never felt hateful to Kappa like now before. FYI, it's this guy ↓
Finally, the bus came to a stop. It was the car park of Kappa Country.
It said there will be no bus from here today on the sign!
I never knew Kappa was this sly. We were tricked from its charming face.
At that time, I've completely sobered up from the first bar.
Let's just restart and hop on the bus.
After 15 minutes of a nice bus ride, here I'm at, Fushimigura.
It's huge… This massive 5 story building is the first ever factory in Japan that allows you to see the making of both beer and Japanese sake at the same time.
The newly opened complex is built specially for the visitors, and you can feel the real charm of the sake making without missing out on anything.
My gut feeling of the bus incident just a moment ago was washed away just because I was escorted to the second floor by a lovely receptionist.
In the guidance theatre, you watch a film consisting of how the grain becomes alcohol, the passion of the company, etc.
The beer in this film looks soooo delicious. Not a good part of a film for a person that just ran a long way to catch a bus.
After the film, now you start observing the factory from fifth floor down.
Another disaster…
The factor isn't operating!!
Today's a public holiday. None of the workers are here.
I had to go walk down stairs without seeing any of the fun part like making the yeast, and the beer machine working.
What caught my attention was that there is no dust or rubbish on the floor what so ever.
I had to use the panel to study while I was impressed by the cleanliness of the factory.
(I wasn't allowed to take any photos in the factory, sorry)
Kizakura was the pioneer of the craft beer boom all over Japan.
The deregulation in 1995 allowed them to obtain their brewing licence, which made them the seventh company in Japan.
After this craft beer era, the brand "Kyoto Beer" was what lead the Kyoto craft beers.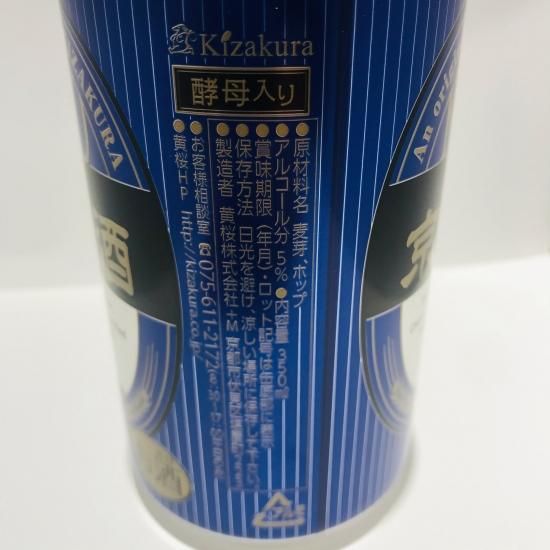 There's too many varieties to introduce now, but the one that I personally liked is this.
It's a combined project between Kizakura, Waseda University, and Kyoto University.
The already extinct wheat, Emmar Wheat, from ancient Egypt found by the famous Proffessor Sakuji Yoshimura.
That extremely rare wheat was found in Kyoto University.
Why don't we mass product this and make it into a beer!
The fact that it's from ancient Egypt, but found and harvested in modern Kyoto, is one of the reason why this has a good impression.
Also the fact that they've already created sparkling Japanese sake 20 years ago.
Sparkling Japanese sake is very popular amongst the ladies now, but back in the days it was nothing.
There's many varieties of sparkling sake. It will make a good present to girls who likes to drink.
All that jazz and I walked down to the second floor and finally got to the tasting.
It took so long….
What I ordered at the bar was
「Kizakura Kyoto Beer Koelsch」 (350 yen)
Very delicious!
Nothing will taste bad if it was served by a good-looking bartender who looks like he works at a foreign company.
I've accomplished the history of a craft beer through Kizakura.
It's also a good idea to go to the Kizakura Fushimigura with a tour conducted by a Travel company.
You can enjoy the craft beers and sake at a beer hall with over 200 seats.
Main reason is that the factory is operating. This is most important.
Money in hand 2070 yen
Spent 350 yen
Remaining 1720 yen
Kizakura Fushimigura(黄桜 伏水蔵)
Address (English) : 53 Yoko Oji Shimomisu Kajiwara Chou, Fushimi-ku, Kyoto
Address (Japanese) : 〒612-8242 京都府京都市伏見区横大路下三栖梶原町53
Open : Mon ~ Fri 10:00~16:00
Close : New Years Eve, New Years Day
Tel : 075-644-4488
Website : http://www.kizakura.co.jp/husimigura/index.html
Map :
Oh yer, I forgot.
The relationship between Kizakura and Kappa. The second CEO of Kizakura found a comic on Shuukan Asahi (weekly magazine) called "Kappa Tengoku" and used it as an advertisement model once, ever since then, the Kappa drawn by the cartoonist Kon Shimizu has become the model of Kizakura.
I personally know more of the Kappa drawn by Ko Kojima, who took over the role from Kon Shimizu.
The only reason is that, it's very erotic.
I was questioning the adult's morale in my childhood days when a Kappa lady with huge breasts appeared on the TV for Kizakura commercial.
Now, I'm one of the many fans of that Kappa. I even went to a shop close by and bought their mug and a plate on the spur of the moment.
I need to tell myself when I was a kid that this is what it's meant to become an adult.
Yatai Izakaya Maruhachi(屋台居酒屋マル八)
I need you to remember that this blog is about how drunk I can get with only 3000 yen.
I have only had 3 ochoko of Japanese sake, and 1 beer.
Don't tell me to get drunk with only that much.
So, I came back to the Otesuji Shopping Street and started to look for bars that will get me absolutely hammered with 2000 yen.
It's only 2pm. Am I able to find a good bar!?
Found one relatively quick!
Similar shops were laid out in a row.
Their both reminds me of Kushikatsu shop in Osaka. Let's go have a look.
Very old look but, ver modern inside.
Who cares about that. I need a drink!
Without a second thought, I ordered a beer (270 yen)! Too cheap!!
Wow, Kyoto Beer tastes better!
That's what came to my mind, but I thought I'd imagine the famous dinner scene of Shigeru Mizuki and put that into reality.
Tori Kawa Ponzu (Boiled chicken skin chilled with ponzu citrus sauce 360 yen), Kushi Katsu set (580 yen)!
Nom nom nom…
Delicious!
I was feeling tipsy when the table started getting cleared.
So I thought I'd take a look at the one next door.
Money in hand 1720 yen
Spent 1210 yen
Remaining 510 yen
『Yatai Izakaya Maruhachi(屋台居酒屋マル八)』
Address (English) : 1F From First Building 749 Higashi Otemachi, Fushimi-ku, Kyoto
Address (Japanese) : 〒京都府京都市伏見区東大手町749 フロムファーストビル 1F
Open : Mon ~ Sat 11:30~25:00 / Sun 11:30~24:00
Close : New Years Eve, New Years Day
Tel : 075-604-5212
Website : https://www.hotpepper.jp/strJ001134181/
Map :

Yatai Izakaya Osaka MANMARU(屋台居酒屋 大阪MANMARU)
After saying goodbye to Hideyo Noguchi (The portrait on Japanese 1000 yen note), the money I've got remaining is only 510 yen, BUT, I can still drink! 2 more!
Bursting into Izakaya with few coins in my hand when the sun is still out just looks like an alcoholic escaping from the giving-up-drinking society.
This bar has the same taste as the one next door. It's just like Watami and Shirakiya next to each other (They're both Japanese chain Izakaya all over Japan).
However, this one was busier now of the day (15:00)
This mystery can be solved if I have a sip of their drink.
I'm still gonna drink!! Bring me alcohol!
Draft beer 290 yen.
Sooo good! But I just realised I've only got 210 yen!
What a sloppy way of using my money. Surely, they can't serve me anything else.
I'm no way near as drunk right now, and I started feeling hungry.
A bit repetitive, but let's brush up the theme of today.
It's "Getting drunk during the day at Fushimi with 3000 yen".
There's 4 key words in this sentence.
When I look back on what I did from this morning till now, I've completed 3 of the 4 key words.
3 quarters completed isn't such a bad result. Unfortunately, I couldn't get drunk though.
Let's look at it from another perspective.
Spend over 3000 yen to get drunk.
How does it sound.
I couldn't complete the 3000 yen limit, but if I get drunk, that still means I completed 3 quarters of the key words.
I just swapped getting drunk and the 3000 yen limit.
How smart.
Perfecting a goal is not a easy thing to do in the first place.
Setting the goal high, but only reaching up to a comfortable height is the way of the world.
I've done well. This challenge finished at a good spot.
Now I can drink without anything stopping me.
Jim Beam highball (??? yen), Gyoza (??? yen), Grilled Hormones (??? yen)!!
And the sun sets at Fushimi…
『Osaka MANMARU(大阪満マル)』
Address (English) : 1F Okuda Building 5-510-2 Shinmachi, Fushimi-ku, Kyoto
Address (Japanese) : 京都府京都市伏見区新町5-510-2 奥田ビル 1F
Open : 11:30~03:00(L.O.02:15)
Close : Open everyday
Tel : 075-621-1347
Website : https://tabelog.com/kyoto/A2601/A260601/26020652/
Map :

To sum up
It was pretty obvious that Taishuu Izakaya (Generic name for a casual pub) is the best bet to get drunk with cheap and tasty food.
It's open pretty much every day, and also serves alcohol until very late, so it's a very good place for alcoholics, I mean people who likes to drink.
I've spent an entire day to prove something that was obvious, but this is what you call eccentricity… well that's what I hope it's like, but it's just a stupid alcoholic guy.
TO those of you who wants to get tipsy from the day time, Otesuji Shopping Street is always by your side.